Many of the databases we subscribe to come from a company called EBSCO. EBSCO "hosts" many different databases, and cover a wide range of disciplines. It gets confusing because a lot of the databases look the same, but EBSCO is actually just the publisher. While each EBSCO database covers different subject matter, indexes different publications, and includes its own unique features, they all work very similarly. So if you can use one, you can figure out how to use them all!
Note: Many of these tools do not include the full text of articles, just abstracts or citations. For help getting the full articles, you may contact me or another librarian. If you want to make sure that you only retrieve scholarly articles in your search, click the Academic Journals link that appears at the top of the left sidebar next to your search results: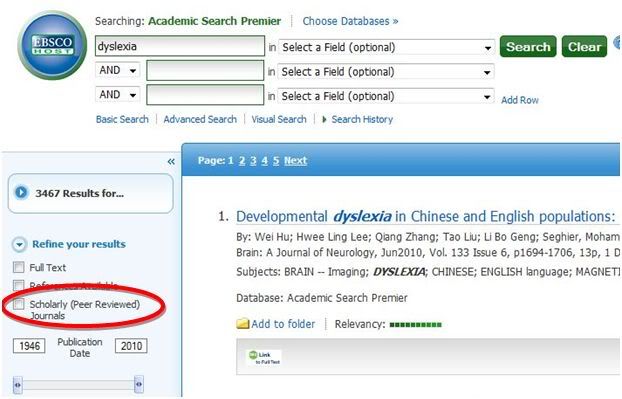 Search Screen: All the EBSCO databases will start you out at the Advanced Search screen, which will have 3 search boxes and lots of other ways you can limit the results. Start by identifying 1-3 keywords or phrases that describe your search, and put one word/term in one search box, one in the second box, etc. If you try to put all your words in one box, you might not get a very good search! Just leave the drop down menu as "Select a Field", which will look for your word or phrase as a keyword anywhere. Later, if you need to refine your search you can try choosing other options from the menu, like Subject or Title.
Limiting Your Search: When you retrieve a huge number of results, the best way to limit your search is by "Subject Thesaurus Term." You can find this on the left side of the search screen. Click on it and then click on "See More." At this point you will see a large list of sub-topics and the number of results contained in your original search. Select some and click on "Update." You may have to do this more than once, if you are still retrieving large numbers of results. The reason for limiting your search is so that your topic is researchable - neither too broad, nor too narrow.
Other ways to limit your search are by Scholarly (Peer-Reviewed) Journals. A date limiter is also a good idea, if you require the latest information on your topic. This option can also be found on the left side of the screen.
Getting the Articles: If you see a link that says "PDF Full Text" or "HTML Full Text", you can just click on those to open the entire article. If you do not see those, you may still be able to get the article from another database. Go to the green icon that says "360 full-text." The article may be in another database. If not, it will indicate that you would need to request the article, in which case you need an ILLiad account to do so.
Links to setting up Interlibrary Loan Accounts:
ILLiad is the database for requesting articles. When the article becomes available, we will email it to your RU email account.
https://roosevelt.illiad.oclc.org/illiad/FirstTime.html
I-Share allows you to request books from other universities across the state. When you book arrives, we will send you an email letting you know that it is in.
https://vufind.carli.illinois.edu/vf-rou/MyResearch/Account?followup=%2Fvf-rou%2FMyResearch%2FHome
More: EBSCO has some excellent help information available online, or you ask me for help.